Boost your business
Free Business Analysis Before Launching a
Brand Design

Campaign
Why is it so important to have a unique brand? A brand that will not only tell your customers about the company and products or services you sell but emphasize the brand's uniqueness. Yes, you can create an ordinary logo, make a good website design, add attractive descriptions. But does it all make sense if customers don't recognize your brand among others? The customer who buys from you today will forget about your brand tomorrow.
Before deciding what design would fit the client, we collect information about his\her business, take into account all his\her wishes, choose colors, corporate fonts, etc. Would it fit your business? Then, IntlTech is here to help! Our creative team of designers and web developers know how to highlight your business strengths! Let's start immediately! Contact us right now and our experts will perform a deep analysis of your business needs. Also, we will calculate the cost of brand design development. This service is free of charge.
2 versions of the company's logo;
Double-sided business card design;
Business stationery: letterhead and custom envelopes design;
Sticker design;
The final files to print in .ai; .jpg logo file with high resolution;
CMYK file (format for printing) and RGB (format for using on the Internet);
PNG logo file with high resolution and without background;
Three final versions of company's logo;
An 8-colors palette for the visual identity of your brand. This palette includes 3 primary, 3 secondary and 2

tertiary

colors.
3 photos/graphics with high resolution to enhance the user's communication with the brand;
A palette of two-font typography that demonstrates the visual identity of your brand;
A brief guide to the PDF branding tool, which includes:

RGB colors;
CMYK colors;
Hex color code for the web;
Font names and usage instructions.
MAKE YOUR BUSINESS OUTSTAND
Brand

Identity

Design

in USA: What Should You Know About It?
Brand design is one of the crucial factors in the process of creating a company's identity. It is included in the whole marketing strategy of business promotion and influences the company's position among competitors.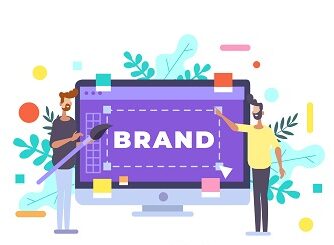 Do all businesses need it? Brand design is an inevitable action for companies that want to perform successful promotion campaigns on the market. Whether it is a product or service, they must be recognizable among the target and non-target audience.
A brand designer is a very important person in every marketing or brand design company. He\she is responsible for creating a logo and visual design – the most important things that make the first impression on others when contacting a company. Brand identity is always connected with the marketing strategy of the business. The brand designer also should deal with advertising materials, a website, business cards, etc.
Professional brand design studio knows how to create a brand design that will be associated with the product at its first mention.
Brand Design Company: The Process of Development
What's the main role of the original business brand? First of all, it increases the credibility of the company and makes a product or service more recognizable to customers. Our experts use the most effective modern design tools to achieve excellent results. The whole process of brand logo design creation is subdivided into several stages.
Company style and identity development. Company style is a general concept because it includes logo, letterhead, business card, etc. Style increases the reputation of the corporation, makes it more presentable and recognizable for partners and customers, as well as increase the level of trust or credibility. Experts should pay special attention to choosing the style and consider all business features and specificities.
Brand logo development. When the style is chosen, our web designers start to create a logo. It's also one of the most important actions in a brand's promotion. A company's logo is a graphic visualization or a short visual description of the main idea of product or service. It is the first thing that attracts the attention of potential customers and partners. Judging by this, competitors form an opinion about you, your capacity and the quality of your products.
Brand packaging design. When it comes to packaging design, there are several things we take into consideration: target audience (to realize who is a consumer and what design he\she would like), the main color (it depends on the product; for example, for fresh food products it's better to use green, etc.), symbols, signs, and fonts (all these tools work perfectly when there's need to strengthen the brand). Ideal brand packaging design emphasizes product uniqueness and originality.
Brand-book development. Many users don't know what is a brand-book and why it is so important. It's a kind of brand management guidelines for corporate use. In simple words, it's an instruction on how to use your corporate identity. It includes detailed descriptions for using each brand element on different types of media.
IntlTech is an international digital marketing company that develops quality brand identity design in USA and USA. We're ready to take on serious challenges and make all your digital wishes come true. Contact us and provide information about your business, the services you offer or products you sell, and we will offer you several solutions for business promotion.
Don't waste your time! Let's start a luxury brand logo design campaign right now. We know how to beat your competitors. Are you in?
ABOUT US
Have a look at an ordinary working day of the IntlTech team while designing, developing, and doing marketing for our clients. We are so excited to be a part of your business success!
Fill in the form below and
our specialist
will call you back for a
free consultation
.
Request a quote
Fill in the form below and
our specialist
will analyze your business and call your with a detailed information about the plan that would suit your business needs the most.
Request a quote
Fill in the form below and
our specialist
will analyze your business and call your with a detailed information about the plan that would suit your business needs the most.
Request a quote
Fill in the form below and
our specialist
will analyze your business and call your with a detailed information about the plan that would suit your business needs the most.
Fill in the form below and provide the information about your business type and size.
Your are on the
right way!
Fill in the form below and
our specialist
conduct deeper analysis of your business and call with a prepared personal solution.
We are happy that you are on the right way to promote your business online
THANK YOU!
We will make every effort to help take your business to the next level and become your reliable partner. Our sales manager will contact you as soon as possible during business hours.
request callback
Top