Christmas is right around the corner, meaning the busy holiday season is about to start. And even though working load can seem like too much for some individuals, this wonderful time is a perfect opportunity to grow the revenue for the business (it doesn't matter whether online or offline).
However, as a digital marketing company, we want to pay more attention to online businesses and the way they can prepare for the festive season. Websites, social media, ads – eCommerce has a lot to cover, so let's dive into the discussion. In case you need help with planning your routine for this year, don't hesitate to find professionals who can help your business fulfill your needs.
Tips and Tricks to Incorporate Into Your Work
Holiday marketing is delicate, as you should spread the holiday spirit without overdoing it while still standing out from other businesses. Below, we gathered the most helpful tips and tricks you can add to your marketing strategy and adapt those to your company. Let's begin!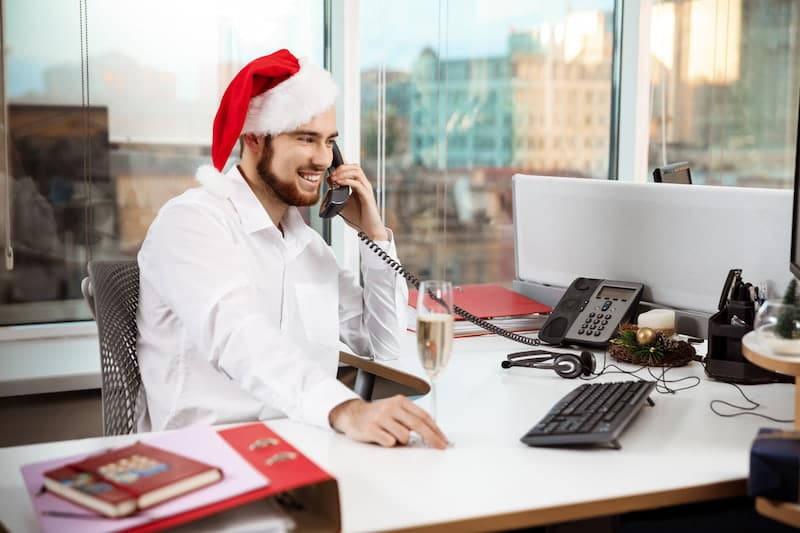 #1. Set Clear and Realistic Goals
The first thing that should be done in any strategy is setting realistic expectations for the marketing campaign. That can be beneficial for several reasons, such as:
You can understand the direction and focus of your strategy;

It can help to calculate all the budgets, time, personnel, and other essentials;

There will be a better understanding of how to attract your target audience;

You'll have a chance to compare the expectations with actual results once holiday hours are over.
Small businesses can focus on such goals as increasing website traffic, boosting sales, growing the average order value, boosting a presence on social media, improving customer engagement, and others. You don't have to settle just on one goal when so many great options are available!
#2. Explore the Current Situation on the Market
Skipping the research phase during the holiday season can affect the quality of the campaign significantly, as that's one of the best ways to learn all about the latest trends, customer behaviors, and other crucial aspects you should pay attention to. Here are a few things to keep an eye on:
Explore the customer data to understand people's preferences, purchase patterns, and trends for the holiday season;

Don't ignore your competitors to understand their tactics for Christmas time. Your main goal is to be unique, so it's important to understand what can be added to your plan to make your business shine among all other options;

Engage with your potential customers through different platforms to understand their expectations from the upcoming season. Some of the best options are feedback forms, surveys, and social media polls. To get more responses, you may offer special discounts during holiday preparations;

Monitor social media to understand people's expectations for the holiday season. They can mention desired discounts, trends, and other helpful details you can use in your strategy. Knowing their concerns and preferences can also help to make the overall experience with your company more pleasant so people would like to return to your eCommerce.
#3. Add the Latest Trends to the Strategy
One of the best ideas for the holiday season is to spread the holiday cheer in an original, exciting way. You can pick up a few for your campaign, for example:
Boost TikTok holiday marketing by using trendy sounds or effects;

Don't forget about holiday decorations and use the latest design trends to create greeting cards for your eCommerce;

Create branded holiday memes to be more memorable and funny. Christmas is all about the joy, isn't it?
#4. Don't Forget About the User-Generated Content
User-generated content can help bond with the audience, create a unique tone of voice, and boost credibility and trust among potential clients. You may think about the following:
Add holiday-related hashtags. You may also create your unique hashtag and encourage people to use it in their posts while showing your products. It's even possible to offer discounts for sharing your tags and goods online;

Create gift guides based on your client's preferences. Share gift ideas based on the available products on your website. It'll not only help with promotion but also give others some shopping inspiration everyone needs during this season;

Don't forget about testimonials and product reviews. Ask your customers about the feedback for their holiday purchases. That's one of the best ways to provide social proofs for potential buyers.
#5. Add Holiday Sales and Discounts
Most people are excited about the holiday season because they can buy presents, find new interesting products, and bring joy to their loved ones. And, of course, they will more likely pay attention to the company with their best interests in mind. You may also offer them other benefits, such as free shipping or special gifts for every order. Just don't forget to plan ahead and inform people about the discounts in advance so they know when it's time to visit your eCommerce and purchase everything they need.
The Final Word
Small business owners should understand all the challenges that come with the upcoming holidays. Numerous aspects must be considered for a successful strategy, starting from the website design and ending with special discounts for certain positions in eCommerce. And even though it may sometimes feel overwhelming, the results are definitely worth it, considering the revenue most businesses can reach within just a month of a busy season. Hopefully, you found our recommendations helpful. Remember, it's always possible to adapt these pieces of advice according to your business's needs, so don't be shy and be creative together with the IntlTech team!