Our creative team of digital marketing professionals doesn't need a new year, Monday, or tomorrow to change something. Everything starts today! Dear friends, we are proud to present to you our redesigned website that has been optimized for your comfort and better user experience. You may see the difference with your own eyes. Let's call it IntlTech 2.0. The following features were added to our renewed site during the renovation: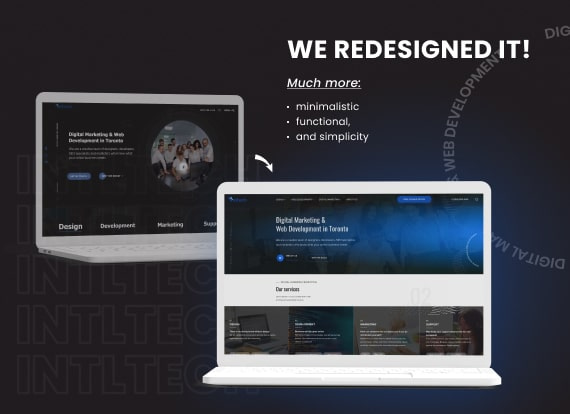 More modern design and colors;
Upgraded menu for your comfort and easier exploitation;
Possibility to learn more about every member of our big team;
Extended range of services;
Increased page speed.
Sounds interesting? Check out all the features of our new website yourself! We will appreciate feedback from you because users' happiness and satisfaction are our number-one priorities. Everything for the customer, that's the rule. Also, if you liked what you saw and want a consultation about boosting your own business together with the team of IntlTech experts, contact us. We may help with anything in the digital marketing sphere – starting from SEO optimization, ending with new visuals for the site and social networks. And if you are not sure where to start – no worries. That's why customer support is here. After a careful analysis, we can provide you with a list of possible improvements and upgrades for your business. Let's begin a new successful era and create history together!